The Mad Housers - Donations and Merchandise
Shelters aren't built out of good intentions alone! The Mad Housers is an almost all-volunteer organization (we have 1 part-time employee), so even a small donation goes a long way towards helping someone have a warm, safe place.
Monetary Donations
Monetary donations can either be sent to our mailing address or made online via Paypal.
For reference, a High-Hat hut costs about $1200 with all new materials, and a Low-Rider runs about $700. With donated and reused materials, we can drop those costs even further.
Materials Donations
The Mad Housers will gladly accept donations of tools and materials. Here is a list of specific items that we can use.
Tools:
18V Ryobi One+ Batteries
18V Ryobi One+ Impact Drivers
Angle Grinders
Hammers
Speed Squares
Tape Measures
Chalk Lines
Work Gloves
Caulk guns
Safety Goggles
First Aid Kits
Construction Materials:
Doors (solid core only)
Nails (16, 8 and 6 Penny)
2x4's (preferably 96" long)
Screws (3" and 1.5")
Plywood (11/32" and 19/32" AKA 3/8" and 5/8")
Cinder blocks
Exterior combination locks
Chain
55 gal. steel barrels (closed top)
Staples (3/8" T50)
Roll Shingle Roofing (NOT tar paper)
Caulk
Spray foam (such as Great Stuff)
Exterior Paint (preferably muted or dark colors)
Contractor Garbage Bags
Client Needs:
Tents (useful for emergency shelter when a hut isnt built yet)
Mid-weight Tarps (brown, 10x10 or larger)
Firewood (if delivered to client site by donor)
Personal Hygeine kits
First Aid/Safety Kits
Fire extinguishers (not expired)
Stuff we can't use
There are many things that we'd love to take, but our warehouse space is tiny. Basically, if we don't have a space for it, we probably can't make more space for it. Here are some charities that may accept items we cannot:
Remember: Your donations, whether material or money, are tax-deductable. Please include your name and address with any donation so that we know where to send your receipt. For materials donations, please provide either a sales receipt or an estimate of the value of the materials that have been donated.
Donation pick-ups: For material donations please email ops@madhousers.org to arrange a pick-up.
---
Mad Housers Merchandise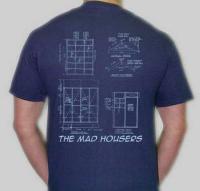 Mad Houser Tee Shirts - bold, snappy, and 100% cotton. Medium, Large, or Extra Large, they're a bargain at $15. To order, send a check or money order to our mailing address, or make an online donation and specify that you'd like a tee.

We also sell other stuff - baseball caps, lunchboxes, mugs, et cetera, through cafepress. Check it out!
---
Shop and Donate!
You can even help the Mad Housers while you shop!
First, you can specify The Mad Housers as your charity of choice when you shop on Amazon Smile (smile.amazon.com). Amazon donates 0.5% of the price of your eligible AmazonSmile purchases to the charitable organization of your choice.
Second, if you shop at Kroger and have a Kroger Plus Card, you can make the Housers your Community Rewards charity. Like Smile, a portion of the money you spend at Kroger will be donated to the charity of your choice; register at kroger.com and choose the Mad Housers as your Community Rewards partner.